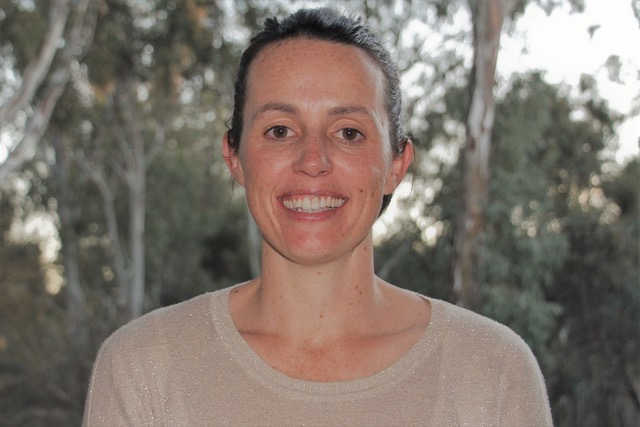 Tamara Nicholls
Podiatrist
Tamara is the owner of Moama Podiatry and graduated with a Bachelor of Podiatry from LaTrobe University in Melbourne in 2007. Prior to starting her own clinic, Tamara has extended her Podiatric expertise within private practice in Bendigo, Echuca and Shepparton. Tamara takes pride in providing comprehensive management of all foot and ankle conditions and enjoys helping people with preventative care and education.
Tamara loves working alongside her great team of Podiatrists within a multidisciplinary clinic at Echuca Moama Physiotherapy. Like her colleagues, she strives to further expand her knowledge and Podiatric skills.
Outside of Podiatry Tamara and her husband Andrew love family time with their two children Paddy and Abigail. Within the community she also enjoys her involvement with the Echuca Bombers playing netball and her role on the committee.
Jessica Stevens
Podiatrist
Jess graduated from LaTrobe University in Bendigo and has returned home to Moama after 12 months working in the Northern Territory. Whilst working in the NT Jess was able to work in many remote indigenous communities, the correctional system and assist in Podiatric surgeries.
Jess has an extensive background in Podiatric friendly footwear and is interested in all areas of Podiatry, her main aim is keeping people active and on their feet.
Jess has completed courses in Dry Needling, Osteopathic Manipulation Therapies for Podiatrists and Kinesiology taping.
Jess has attended many conferences with the highlight being able to attend the World Podiatry Conference in Glasgow, Scotland.
Aside from Podiatry, Jess is interested in Clinical Pilates, travelling, cooking and generally being in the great outdoors whilst spending time with family and friends.
Corey Nexhip
Podiatrist
Our newest Podiatrist to join the team is Corey Nexhip. Corey hails from our neighbouring town of Tongala and studied a Bachelor of Health Sciences & Masters of Podiatric Practice at La Trobe in Bendigo. Prior to Coreys' position at Moama Podiatry he practiced in Rochester at REDHS. His position encompassed management of patients general foot and nail care, the high risk foot, and wounds.
Corey's scope of practice involves all aspects of Podiatry and he takes great pride in helping people 
feel better and stay active.
Outside of Podiatry, Corey has interests in Football, Tennis and Netball and he is a proud supporter of the Hawks in the AFL.
Corey is available in Moama every 

Tuesday
April Picone
Podiatrist
April is currently on Maternity Leave after the arrival of her baby boy Huddy, in March. April graduated with a Bachelor of Health Science (Podiatry) from Charles Sturt University in 2009. Since then she has gained a wealth of knowledge by working in private practice in Melbourne, Echuca and Perth. She has had extensive experience looking after people (young and old) with sore feet, heel pain, ingrown toenails, warts, corns and callous. She has helped those with sporting injuries including shin splints, plantar fasciitis, Achilles problems and heel spurs. She also has experience with looking after the feet of people with diabetes and other chronic health conditions. Experience in the assessment of lower limb biomechanics and orthotic therapy is also an expertise.
Although April enjoys all aspects of Podiatry, particular interests include sports podiatry, joint mobilisation and dry needling, providing gait assessments, providing footwear education and providing general care to help those with hard to manage toenails, corns and callous.