Echuca Moama Physiotherapy
Our expert assessment, diagnosis, treatment and prevention services include:
Physiotherapy
Specialist Sports Physiotherapy
Musculoskeletal Physiotherapy
Sports and Spinal Physiotherapy
Dry Needling
Home Visits
Occupational Injury Management
Pre-employment Screening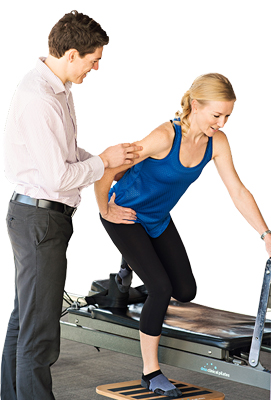 PHYSIOTHERAPY:
Physiotherapists are principally concerned with the assessment, diagnosis, treatment and prevention of muscular and spinal disorders.
At Echuca Moama Physiotherapy, we utilise our knowledge of the normal movement and function of bones, joints, muscles, tendons and ligaments to determine if they are performing effectively.
The use of manual (hands on) treatments including joint mobilisation and manipulation, massage, targeted exercises and advice aims to restore normal movement and function.
Physiotherapy can provide benefit to a range of people, from elite athletes to weekend warriors, from manual workers to older persons coping with the ageing process.
SPECIALIST SPORTS PHYSIOTHERAPY:
Specialist Sports Physiotherapists have undertaken intensive training at an advanced level and undergone rigorous examinations to be awarded fellowship in the Australian College of Physiotherapists (FACP).  This recognises a Specialist Sports Physiotherapists as possessing the highest level of clinical skills and as leaders in the management of sporting conditions.
The skill of the Specialist lies in the ability to assess, treat and manage complex, difficult and, at times, multifactorial sporting problems.
Echuca Moama Physiotherapy Director, Sean Slattery (FACP) is a Specialist Sports Physiotherapist.
MUSCULOSKELETAL PHYSIOTHERAPY:
Musculoskeletal Physiotherapists have expertise in the treatment of musculoskeletal (muscle and joint) conditions and employ advanced clinical assessment and diagnosis methods.
Musculoskeletal physiotherapists and have been trained in a broader range of treatment techniques, including manipulation and hold a Masters of Physiotherapy qualification.  Members of the Musculoskeletal Physiotherapists Australia (MPA) are world-leaders in the diagnosis, treatment and prevention of muscle and joint problems, especially spinal conditions that commonly cause lower back pain and neck pain. 
Echuca Moama Physiotherapy Director Matthew Dobeli is a titled APA Musculoskeletal Physiotherapist
DRY NEEDLING:
As an alternative to hands on treatment or as an adjunct to your normal Physio treatment, your therapists may use dry needling to improve or restore function. This may include needling of myofascial trigger points, periosteum, or other soft tissue.
HOME VISITS:
At Echuca Moama Physio, home visits are available for regular patients of this practice whose condition prevents them from attending the clinic. Home visits do however incur an additional fee, please speak to our administration staff to organise this.
OCCUPATIONAL INJURY MANAGEMENT INDUSTRIAL PHYSIOTHERAPY 
WORK PLACE ASSESSMENTS:
Echuca Moama Physio has established links with many local and regional businesses in relation to industrial physiotherapy. We currently provide:
Pre-employment screening – to help ensure potential staff are the best available and physically able to meet the requirements of the specified role.
Onsite Physio services – both from an early intervention/treatment perspective but also ideally as injury prevention consultants.
Onsite job site assessments/ergonomics/task analysis.
WHAT CAN BE TREATED?
Sports Injuries
Whiplash
Headaches
Jaw Pain
Shoulder Pain
Lower Back Pain
Hip Pain
Shin Splints
Muscle strains and tension
Ankle Sprains
Knee Pain
Tennis Elbow
Neck Pain and Stiffness
Biomechanical Problems
Chronic Pain
Referred Pain
Post Fracture & Surgical
Workcover and TAC claims
Rehabilitation